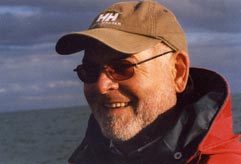 Guy L'Hostis was born in Paimpol,Britanny,France in 1945 to a family with strong maritime tradition.
Trough self-teaching,he very soon began to paint in gouache,oil and finally water colour which is now his preferred technique.
His great passion for painting marine impressions dates from his 29 years of experience navigating with the merchant marine as well as sailing cruises and regattas on various sailing boats.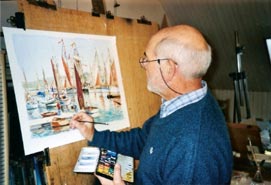 1976,1977,1978:
Salon Marine Treguier France
1978, 1991 :
Galerie Flore, St Brieuc
1982 à 1991 :
Salon nautique International de Paris
1984 :
Salon des vacances de Bruxelles
Depuis 1986 :
Salon des peintres de la Marine, Paris
Depuis 1986 :
Galerie Rollin, Rouen France
1986 :
Galerie des Iles, Paris
1988 :
Galerie Via, Aurélia Beaulieu-sur-Mer
1991 à1997
Swann et Tryon and Swann Gallery London
1992 à 1997
Galerie Guinemer St Malo
1994
Affiche pour la ville de St Malo France
1997
Galerie Gautier Granville
1998
Exposition à la Société des Régates du Havre
1998
Exposition au Lavoir de Mougins France
2000 2002 2004 2006 2008
Galerie en Ré Bois Colombes France
2003
Musée de la mer Paimpol France
2006
Peintre officiel du Yacht Club de Gstaad Suisse
February 2007
Exhibition Gstaad Yacht Club Suisse
Eté 2008
Atelier.Galerie PAIMPOL
été 2009 atelier galerie Paimpol
1
2011 2013 2015 2017
Musée de La Marine Paris
2018
Bleu la Galerie St Jean de Luz
2019
Galerie Rollin Rouen